Our Industries
Veterinary Accountants Indianapolis
Financial Wellness for your Veterinary Practice
In today's world, operating a veterinary medicine practice requires much more than simply being a specialist in your field; a well-developed business plan is key to addressing issues such as liability, low costs, and state and federal regulations. This is where MKR comes in. We have created a practice line dedicated to veterinary accounting and we focus on the complex finance, accounting and compliance aspects of the veterinary industry in order to provide creative and profitable solutions specific to your company or practice.
We know that in today's ever-changing veterinary medicine industry, business and tax planning is anything but simple. Luckily, our professionals have decades of experience working with clients in the Veterinary industry, and we want to service that knowledge to your benefit. Our goal is to make your business run efficiently and effectively on the finance end so that you can focus on what you know best: Veterinary medicine.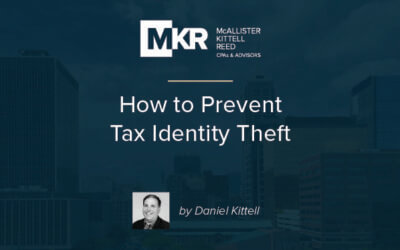 The start of a new year is a time for fresh starts and new goals, but it's also the beginning of the oft-dreaded tax season, which means Tax identity thieves are on the lookout for information they can use in order to create fraudulent tax returns. Here are some tips...
Connect with Your Advisors