Our Industries
Nonprofit Accounting Indianapolis
Experienced Nonprofit Accountants
For decades, MKR has served clients in the nonprofit industry, supplying us with a unique understanding of the issues nonprofits face, from regulatory obligations to economic constraints. We have a firm grasp on what it takes to operate as a nonprofit in Indiana, and we hope to utilize that expertise to assist your organization.
While we recognize the common challenges many nonprofits face, our goal is to get to know your organization on a personal level and learn the specific challenges you may face. Our trained professionals know that no nonprofit is the same in the community they serve, the regulations they are under, and the daily challenges they are confronted with, so our goal is to offer customized solutions that meet your needs and unite with your mission and values. We seek to provide solutions for day-to-day financial management, as well as solutions for your long-term goals. Let MKR concentrate on your accounting, tax and business demands so that you can concentrate on serving the community.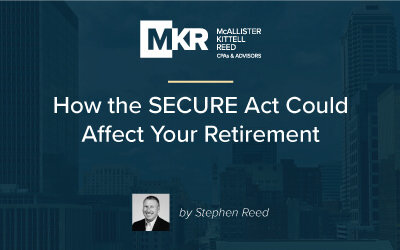 The House of Representatives recently voted to approve the Setting Every Community Up for Retirement Enhancement or SECURE Act, which would expand access to retirement savings programs for part-time workers and people employed by small business owners. If the SECURE...